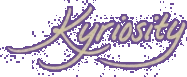 (KE'RE OS'I TE) N., A LONGING TO LOOK
INTO THE THINGS OF THE LORD [C.1996 < GK.
KYRIOS LORD + -ITY; IMIT. CURIOSITY]
Visit The Old Kyriosity Shop

Wednesday, August 07, 2002 AD

The Truth About "The Washington Post Style Invitational"
In a comment re yesterday's Sniglets post, Ellen contributed a list of words purported to be the winning entries in the Washington Post Style Invitational. Like Ellen, I've received this list by e-mail and passed it on to others, too. But this is what seemed fishy: Ellen's version (rather, in the version Ellen shared -- I'm not accusing Ellen of tampering with anything!) claimed to be the results of the 2001 contest. Trouble was, I was sure I'd seen this longer ago. I also thought it suspicious that the Post would print the "French" item on the list. So off I went a-Googling/Among the leaves so green.

Sho' 'nuff, things were not quite as reported. The Post ran the Style Invitational as a weekly feature, which ended in 1999 when the fellow in charge was sent off on a six-month overseas assignment. (Either he never came back or someone needs to send the Post a calendar.) The contest changed weekly as readers were invited to submit various sillinesses in an attempt to win various sillinesses.

And now, without futher ado, I present to you the original August 1998 list from which Ellen's was derived and the Style Invitational Archive. Don't laugh too hard!
Posted by Valerie (Kyriosity) at 8/07/2002 11:10:00 AM • • Permalink
---
Links to this post:
---
Home