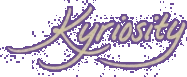 (KE'RE OS'I TE) N., A LONGING TO LOOK
INTO THE THINGS OF THE LORD [C.1996 < GK.
KYRIOS LORD + -ITY; IMIT. CURIOSITY]
Visit The Old Kyriosity Shop

Saturday, August 31, 2002 AD

Somebody Oughta Write a Book
Why have I never seen a book about how to be a member of a local church? There are nine bazillion books on being a husband, or a wife, or a single, or a pastor, or any number of other categories, but there donít seem to be any about being a church member. (If there are, and Iíve missed them, please make a recommendation!)

Hereís what Iíd like to see covered in such a book (which Iím sure one of the fine readers of this here blog will rush right out to write):

Membership Vows: What churches have íem? Why are they needed? What do/should they cover?


Supporting the Church: How much money, time and prayer, and how spent?


Submission: What is the nature and extent of authority of church officers? When do leaders take their authority too far? When do they not take it far enough? When, if ever, is a refusal to submit warranted? What does/should discipline entail?


Coming and Going: What are the right reasons to join a church? What are the right reasons to leave? Are there times when you must leave? when you may leave? when you may not leave?


???: What have I left out that ought to be on the list?
Posted by Valerie (Kyriosity) at 8/31/2002 01:07:00 PM • • Permalink
---
Links to this post:
---
Home