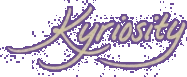 (KE'RE OS'I TE) N., A LONGING TO LOOK
INTO THE THINGS OF THE LORD [C.1996 < GK.
KYRIOS LORD + -ITY; IMIT. CURIOSITY]
Visit The Old Kyriosity Shop

Wednesday, August 28, 2002 AD

Since Emeth Wants Me to Blog Something
Google finally found me, too. It actually caught me once before, but in the "this is the future home of" stage. Now I'm the first kyriosity. And almost all of the others, too. All but one, in fact, which has something to do with roleplaying. Google also found the test blog I set up and played with before buying server space from Jonathan. I have no idea how to get rid of that now. Any suggestions?

Sorry, Emeth. You didn't stipulate that I should post something interesting!
Posted by Valerie (Kyriosity) at 8/28/2002 10:08:00 PM • • Permalink
---
Links to this post:
---
Home