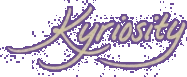 (KE'RE OS'I TE) N., A LONGING TO LOOK
INTO THE THINGS OF THE LORD [C.1996 < GK.
KYRIOS LORD + -ITY; IMIT. CURIOSITY]
Visit The Old Kyriosity Shop

Tuesday, August 20, 2002 AD

A Seething Blogger Gives Herself a Pep Talk
"Slaves, in all things obey those who are your masters on earth, not with external service, as those who merely please men, but with sincerity of heart, fearing the Lord. Whatever you do, do your work heartily, as for the Lord rather than for men, knowing that from the Lord you will receive the reward of the inheritance. It is the Lord Christ whom you serve." (Colossians 3:22-24, NASB)

Some days these words are more challenging than other days. Today is one of those very-not-easy days. There's just no caveat about masters (or, as in my case, mistresses) for whom, for whatever reason, one doesn't particularly care. And there's just no caveat about being asked to do things one considers to be a stupid waste of time. Whatever thing is asked by a legitimate authority, unless it requires disobedience to a higher authority, must be done, and done cheerfully and willingly. It must be done "as for the Lord," and nothing done for Him is, in the final analysis, a stupid waste of time. Quite the contrary! Anything done for Him, in Him, by His power, in obedience to His command, is a beautiful and worthy thing that brings Him glory.
Posted by Valerie (Kyriosity) at 8/20/2002 01:23:00 PM • • Permalink
---
Links to this post:
---
Home