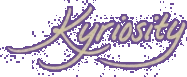 (KE'RE OS'I TE) N., A LONGING TO LOOK
INTO THE THINGS OF THE LORD [C.1996 < GK.
KYRIOS LORD + -ITY; IMIT. CURIOSITY]
Visit The Old Kyriosity Shop

Tuesday, August 06, 2002 AD

Remember Sniglets?
They were a series of books back in...oh, I guess the '80s...that created words that ought to exist but didn't. A couple of my favorite examples are bovilexia, the uncontrollable urge to lean out the car window and moo when passing a herd of cows, and aquadextrous, the ability to manipulate the faucets in the tub with ones toes while bathing.

Well, a faithful friend of this blog, Mrs. PentaMom, came up with a good one the other day: subarubs, city-adjacent neighborhoods inhabited by people who drive Outbacks, Foresters, Legacies and Imprezas.

And I came up with this one this morning: punktuation, the use of commas, dashes, colons, semicolons, quotation marks, etc. without regard to any standard or authority.

Any other contributions?
Posted by Valerie (Kyriosity) at 8/06/2002 10:10:00 AM • • Permalink
---
Links to this post:
---
Home