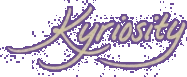 (KE'RE OS'I TE) N., A LONGING TO LOOK
INTO THE THINGS OF THE LORD [C.1996 < GK.
KYRIOS LORD + -ITY; IMIT. CURIOSITY]
Visit The Old Kyriosity Shop

Thursday, August 01, 2002 AD

A Pleasant Evening with My Father
That may not seem like a very interesting title, but I assure you that it's quite remarkable. You see, it's the first pleasant evening I can recall ever spending with my father in my nearly 35 years. And it was the first time I'd seen him at all in over three years.

I met him for dinner at a nearby restaurant. We had a good conversation -- not about anything deep, but I learned some things about him that I didn't know before. Of course, I hardly know anything about him, so that wasn't hard to accomplish. I was able to tactfully change the subject when he strayed into inappropriate territory. In the past, that sort of thing has just made me want to get out of his company as quickly as possible.

I think it was such a success because I wasn't controlled by my pain from the past. He wasn't just the man who utterly abdicated his calling as a husband and father, he was more a tired old sinner in need of grace. And I wasn't just the poor little girl utterly paralyzed by the circumstancs of her past, I was more a child of God enabled to be a vessel of grace. I can almost say with Joseph, "What you intended for evil, God intended for good."

It's a bit stunning to me that I could be sitting here writing about a pleasant evening when I was bracing myself against a dreadful one. God has been merciful to me, indeed.
Posted by Valerie (Kyriosity) at 8/01/2002 10:17:00 PM • • Permalink
---
Links to this post:
---
Home