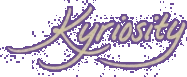 (KE'RE OS'I TE) N., A LONGING TO LOOK
INTO THE THINGS OF THE LORD [C.1996 < GK.
KYRIOS LORD + -ITY; IMIT. CURIOSITY]
Visit The Old Kyriosity Shop

Wednesday, August 21, 2002 AD

First Date, Last Date
I went on my first date when I was 15 (1983). We went to play miniature golf. I won. I went out with that guy twice. That was my longest relationship ever. Yes, as a matter of fact I am a pathetic loser...wanna make something of it?

My last date was when I was 22 (1989). Need I repeat the "pathetic loser" bit?

I should hasten to add I can post stuff like that because at the moment I'm actually enjoying a rare season of contentment with my lot. From this perspective, it's all actually rather amusing.
Posted by Valerie (Kyriosity) at 8/21/2002 12:07:00 AM • • Permalink
---
Links to this post:
---
Home