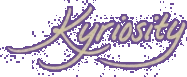 (KE'RE OS'I TE) N., A LONGING TO LOOK
INTO THE THINGS OF THE LORD [C.1996 < GK.
KYRIOS LORD + -ITY; IMIT. CURIOSITY]
Visit The Old Kyriosity Shop

Saturday, July 20, 2002 AD

Take Up Your Cross Daily
(Oops…started writing this three days ago and never got back to it....)

First Train of Thought: There's that word daily, again. Encourage one another daily, take up your cross daily.... A quick search for daily in the New Testament yields give us our daily bread (implying that we are to ask for it daily), the daily serving of food to widows (perhaps implying that we, perhaps corporately rather than individually, are to show charity daily); and examining the Scriptures daily (the Bereans, who have surely set us a good example). I almost left out the one about the widows, because I thought, "Well, that's pretty cultural. We have wonderful modern technology that allows us to stock the widows' pantries' with enough food to last them weeks." But maybe that's the key to why we don't do the other stuff daily (well, at least not some of it): we don't need this stuff daily, or at least we think we don't. I get paid twice a month, and I go grocery shopping about that often. So why should I ask God for provision more often than that? We don't encourage one another because 1) we don't recognize our own need for encouragement, because we're so materially comfortable and 2) it would likely involve taking up our crosses daily.

Second Train of Thought: "He who would come after Me must deny himself, take up his cross daily, and follow Me." I'm still looking for some misplaced and more authoritative manuscript that says, "Take up your pillow daily and have a nice nap." I am the laziest thing on this planet. Sloths use my name as a metaphor for indolence. And "deny yourself"? Who, moi? Valerie, queen of self-indulgence? And "follow Me." Aye, there's the rub: to possess Him, I must dispossess myself. My lack of progress in doing so betrays how little I love Him...how little "kyriosity" I really have.

This verse rebukes me. I need to go write it real big and put it someplace where it'll smack me in the face...daily.

Posted by Valerie (Kyriosity) at 7/20/2002 02:30:00 PM • • Permalink
---
Links to this post:
---
Home