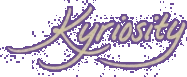 (KE'RE OS'I TE) N., A LONGING TO LOOK
INTO THE THINGS OF THE LORD [C.1996 < GK.
KYRIOS LORD + -ITY; IMIT. CURIOSITY]
Visit The Old Kyriosity Shop

Wednesday, July 10, 2002 AD

Spurs That Jingle Jangle Jingle
"And let us consider how we may spur one another on toward love and good deeds." Hebrews 10:24

I like the near violence of the NIV here -- spur one another on. Other translations have stimulate or stir up or provoke. The word can also be used in a negative sense, to irritate. And Hebrews 3:13 has that admonition to encourage one another daily. Overall, one gets the picture of Christians kind of incessantly, relentlessly, lovingly poking one another 'til we live the way we're supposed to live. Of course this can be done very badly -- spurring with a sledgehammer where a gentler nudge would do the trick. And it's difficult -- getting in each others' faces means being in each others' lives, and we're too wrapped up in ourselves to invest that sort of time and energy. So let us consider...how may we spur one another on? What kind of spurring have you seen work? Or what kind of spurring would work for you?

Here's the sort of spurring I could use: I would love for someone, when I get into one of my all-too-frequent funks, to physically shove an open hymnal in my face and say, "Sing, woman!" Speaking of getting wrapped up in ourselves, I can do self-pity like nobody's business. I own real estate in the slough of despond. But if I can be dragged back into the reality of worship, I'm much less likely to remain wallowing for long.

Other ideas?
Posted by Valerie (Kyriosity) at 7/10/2002 09:47:00 PM • • Permalink
---
Links to this post:
---
Home