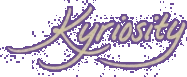 (KE'RE OS'I TE) N., A LONGING TO LOOK
INTO THE THINGS OF THE LORD [C.1996 < GK.
KYRIOS LORD + -ITY; IMIT. CURIOSITY]
Visit The Old Kyriosity Shop

Thursday, July 11, 2002 AD

Quitting the Nursery
One of the first things I volunteered to do when I joined my current church is work in the nursery. I wanted to be intentional about not automatically jumping into the same types of service I always did. The nursery seemed the biggest challenge. I dread it every time. Sometime I end up having a blast, but other times, I feel totally useless. Sometimes that depends on the other adult workers. There's one fellow in particular whom, for some reason, I find very intimidating. But mostly it's just that I'm very stupid about kids. I can't walk into a room of 'em and just know intuitively what to do. I love them, and I'd love to have my own, and there are a few kids of close friends I've gotten along great with over the years, and I can even get along well with kids in other settings. But having to psych myself up to be "on" for an unknown quantity of barely known little people once every six weeks just hasn't gotten any easier.

I think it's important that I spend more time around kids, but I don't think this is the best way of doing it. I'd rather get to know more families in my church and get to know the kids in the context of the families. Much less artificial than the nursery setting. I may also give up "worship hospitality" duty, which basically means filling the coffee pot before service, putting out the cookies after service, and cleaning up once everybody's done munching and chatting. I've finally begun to realize my goal of inviting folks to lunch every Sunday (or dinner, as I did this week), which may not serve as many people, but seems more like hospitality. Of course I don't want to totally abandon participating in the way the congregation has decided to do ministry in favor of my own thing, so maybe I should stick with that one.
Posted by Valerie (Kyriosity) at 7/11/2002 06:16:00 PM • • Permalink
---
Links to this post:
---
Home