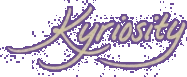 (KE'RE OS'I TE) N., A LONGING TO LOOK
INTO THE THINGS OF THE LORD [C.1996 < GK.
KYRIOS LORD + -ITY; IMIT. CURIOSITY]
Visit The Old Kyriosity Shop

Saturday, July 13, 2002 AD

Especially for Mr. Baxter
This following conversation is reproduced from the IIIM general discussion forum. It starts at post #4929 (currently on page 7 of the archive) for those who wish to read it in situ. Unfortunately, I know of no way to link to that particular thread.


---

Post 1: Upon the meaning of the word "snarky" by Ironic Maiden 19. Mar 20:38
Obviously, a number of forum participants are sadly undereducated in the area of Important Vocabulary Words. "What do they teach them in these schools?"

I was pleased to discover that "snarky" is in my dictionary, albeit with an "[Informal]" designation. Webster's New World defines it as "touchy, short-tempered, irritable, etc."

I find this definition inadequate in two ways: First, "etc." has no business being in a dictionary definition. The point of dictionaries is to clarify, not to give vague, open-ended definitions. Second, I think a more accurate definition, based on usage I've encountered, would be "snide, sarcastic, biting."

The derivation seems intuitively obvious to me: snide+shark=snarky, but I have never read Mr. Carroll's The Hunting of the Snark, so I may be missing some connection there. I hope someone will enlighten me on that point.

Your friendly neighborhood educator on points arcane and marginally useful,

~Valerie

Post 2: I think you've hit upon it. by PentaMom 19. Mar 21:06
Snide+snotty+SARCastic. Throw in a little flavor of "wise---," plus a tad of condescension, and maybe even a hint of mockery.

I must confess I picked the term up from a PCA ruling elder on another Internet forum....[edited for space]

Post 3: I've got to update my dictionary by Webmaster 19. Mar 21:23
My "unabridged" dictionary doesn't have it (it's about 18 years old now). I did find that "snark" was "snort or snore" (in British dialect; also "snork"). Perhaps "snarky" descends from "with a snort," one definition of the verb "snort" being "express scorn, anger, or indignation by means of a snort."

Post 4: Re: Webster's says... by Matthew Limber 20. Mar 21:29
According to http://www.m-w.com/cgi-bin/dictionary?book=Dictionary&va=snarky :

Etymology: dialect snark to annoy, perhaps alteration of nark to irritate
Date: 1906
: CROTCHETY, SNAPPISH

Post 5: Thanks, Matthew! by Ironic Maiden 20. Mar 21:55
Though I wonder if the meaning has drifted a bit since the coinage? If "snark" means "to annoy," one would think "snarky" would mean "annoying," but it doesn't quite.

I think PentaTude's...I mean PentaMom's expanded definition fits every context in which I can recall hearing the word.

Ra, as the saying goes, time heals all wounds...and abridges all dictionaries.

~Valerie


---

So there you have it, Paul! And I don't really think you were being snarky, which I trust was clear from the humorous context in which I used the word.
Posted by Valerie (Kyriosity) at 7/13/2002 09:28:00 AM • • Permalink
---
Links to this post:
---
Home