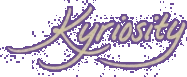 (KE'RE OS'I TE) N., A LONGING TO LOOK
INTO THE THINGS OF THE LORD [C.1996 < GK.
KYRIOS LORD + -ITY; IMIT. CURIOSITY]
Visit The Old Kyriosity Shop

Thursday, July 25, 2002 AD

Cranky, Tired, Cranky, and Tired
Still at work. Takes half an hour to get home. Have to format the church bulletin tonight. Envisioning all-nighter. Yuck. Too old for this, but seem to be doing it a lot lately. Hope Jocelyn recovers quickly from her surgery so I can get off bulletin duty. (That's right, folks -- my dear friend has five surgeries on her spine and selfish-pig-girl can only think about getting rid of doing the bulletin!)

Having lunch with Sarah tomorrow. Going to be great company, I'm sure, on no sleep! (There'd been talk of changing plans to make it dinner and include Brian and Stacey, but I never heard back from Brian, so I guess we'll just have to meet another time.)

2 Timothy 1:7, "For God has not given us a spirit of fear, but of power and love and self-control (or a sound mind)." The more I think about it, the more I see how self-control and sanity are synonymous. And the more I look at my life, the less I see of either.

Did I mention I was cranky and tired?
Posted by Valerie (Kyriosity) at 7/25/2002 11:36:00 PM • • Permalink
---
Links to this post:
---
Home